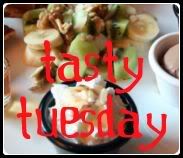 Meal is brought to us thanks to McCormick Seasoning packet. I am one that on certain days need things to be quick and easy. With McCormick already packaged seasonings I can get that done. Says prep time is 15 minutes. I had it done in 9. Cooking time 30 minutes.
So here is what you need:
Note: It says chicken breast. We used Chicken Breast strips.
The recipe is right on the back of the container the seasoning is in. I saved it for future use since I have all the ingredients on hand. I also doubled the recipe.
This is how it looks preoven:You are literally just coating it all
Your house will smell super Yummy. Paul walked in and asked what was cooking. When it comes out it looks so good!