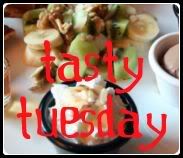 This is a knock off currywurst. Just as yummy as teh real deal.When picking this recipe I tried to make sure it was stuff that was easily accessible to you all back in the states.
3 15oz can tomato sauce
1 pound kielbasa or brats
2 tablespoon chili sauce
1/2 tea spoon onion salt
1 table spoon white sugar
1 teaspoon ground black pepper
1 pinch paprika
Curry poweder to taste
What to do
Pre heat oven to broil or grill
Pour sauce, chili sauce, sugar, salt,and pepper into a pot and simmer on medium heat stirring occasionally. Bring to a gentle boil and reduce heat to low and simmer another 5 minutes
Meanwhile broiland grill kielbasa or brats
When done slice into 1/4 or 1/2 inch slices adn pour sauce over top of meat. Sprinkle paprika and curry poweder and serve. This is super yummy. My kids and husband love it. I usually have a Riesling wine or beer to drink with it. Sides we make rice and a veggie or salad.