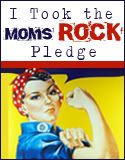 "The Pledge:
–I pledge to purchase from mom-owned businesses as often as possible in my daily life. Be it online or in person.
–I pledge to support my fellow mom in word and action when online.
–I pledge to be a mom that rocks the economy.
Moms Rock the Economy is a collaboration between Leah Segedie and Kelly Loubet. Leah Segedie is the Chief Mom of Bookieboo and Mamavation, and Kelly Loubet is the Designer of Childhood Clothing and Moderator of Bookieboo. It was designed to give moms a place they could go to persue discount shopping WHILE supporting mom-owned businesses.
If you decide to take the pledge, please support other moms by tweeting out as well. Here is an example tweet:
"I took the Moms Rock Pledge! Are you a Mom that Rocks the Economy too? http://www.momsrocktheeconomy.com, #momsrock" THis is off the site come join us in the pledge 🙂