We have had the opportunity to review the Swiss Army Knife Voyager. It is amazing. We absolutely love it. I am sure my husband will too.
So here is some great Infomation about the Voyager
It has a large blade, short blade, cork screw, can opener, screw driver (also for Phillip too) and so much more. This is the cadillac of Knives. It retails for about 98.00. Prefect for every day needs.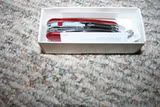 Flash light kids love that
Some of the other features I love is the digital clock on the front. It is extremely sturdy. A few other options are Alarm, Timer,Pressurized Ball Point Pen ,Straight pin ,Patented Mini-screwdriver. They Voyager Measures 3.5 inches long. So not to big or bulky. Its clock runs on a watch battery. A great buy if you ask me.
So knives aren't your thing its OK Executive gift shop has something for anyone. The have beautiful Flasks and Business Card Holder. I am looking at the holders for my new business ventures.
They have a ton of cool products. I plan to do some Christmas shopping with them.
FTC DISCLOSURE:
Executive home gift sent us the knife at free of charge for promoting the product. The opinons are my 100% my own.