We  had the opportunity to reviewistyle originals doggie wear.  They are really cute and come in a variety of sizes. 
For Turbo we chose theichew. He chews everything in site. Have to love the puppy stage. He is finally calming down in that department. As you can see by the pictures he was none to impressed by being dressed up.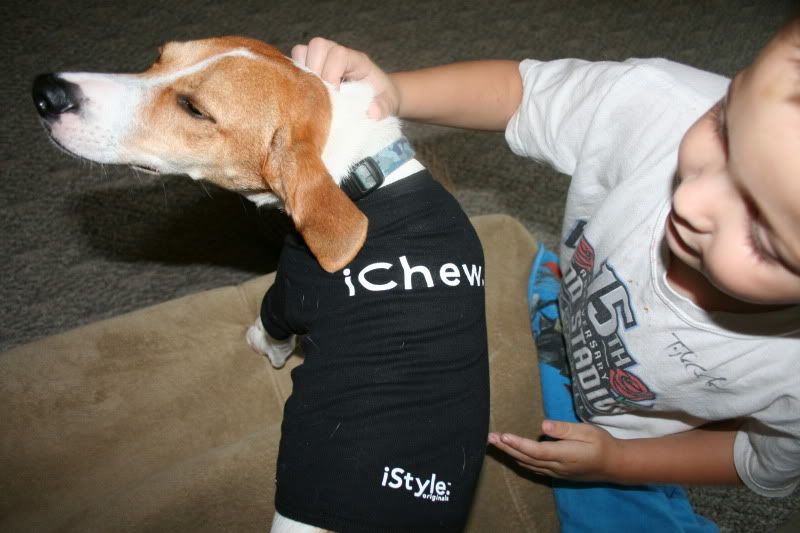 I love the shirt. The quality is great. It was easy on and off. Once Turbo got used to it he didn't mind to much. My only suggestion is don't dry in dryer. I shrunk our shirt for him. I would line dry.
They also offer for kids and adults different shirt slogans. There are a few I have looked at for the kids for christmas.
One Lucky reader will recieve a shirt of your choice. So for the giveaway this will run from now until July 30th. remember that each entry is one comment. If there is more than 1 entry leave that many comments. thanks and good luck.
Mandatory Entry visit istyle originals and tell me what your favorite product is.
Extra Entries
Follow Istyle Originals on twitter 1 entry
Like Istyle Originals on Facebook for 1 entry
Follow Caiafa Craziness on Twitter 1 entry
Like Caiafa Craziness on Facebook 1 entry
Follow Caiafa Craziness on Networked blogs 1 entry
Tweet about the giveaway 2x a day must be spaced out leave links here 2 entries per day
Subscribe to Caiafa Craziness Reviews 1 entry
Subscribe to Caiafa Craziness Main Page 1 entry
Follow Caiafa Craziness Reviews on GFC 1 entry
Follow Caiafa Craziness Main Page GFC 1 entry
Post on a non giveaway post and leave post title here 1 entry per post
Enter another giveaway and earn five entries here
Blog about the giveaway link here and Istyle originals then leave post giveaway link here 5 entries