April at Aprils Accents is allowing me to host a beanie giveaway. Her beanies are absolutely adorable. I am going to be doing a purchase for Nate. So he will stop wearing the bright orange hunting hat.
I will be giving away this beanie

I had to go with a Pink one as it is my absolute favorite color.We are leaving the size open so it will be made for your little ones head size. Her work is fantastic. You can Check her out by clicking her button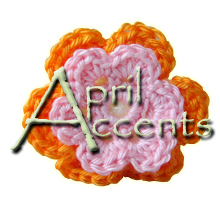 Here is Aprils opening comments on her site "your very own crochet hats and beanies. Clad your little ones for fashion or function.
April Accents offers a variety of hat products that will complete an adorable look for your boys and add the finishing touch for your little princess' outfit!"
Being a mom myself I am all for supporting Moms Business.
This Will be closing Thursday October 1st. Here's how you can enter
For 1 entry each
you can leave a comment on this post
follow my blog
follow April's blog
visit April's blog and tell me what other item you might like
For Two entries you can
Twitter about this giveaway
For Three Entries
You can blog about this Giveaway
Thank You April!!!!